Spend the night in 1909!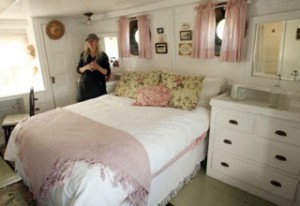 Luxurious  living on Lotus now or in 1909  – she had cutting edge technology – electric lights, radiant heat and full shower (a claw foot tub in the master stateroom). The down-filled duvets and pillows are pure 1909 comfort and the ambiance is delightful. 
The Stewards aboard Lotus are steeped in her history and lore and will give you the cook's tour of our ship including our private collection of historic albums, memorabilia, and curios. We also have a few ghost stories and tales of daring do! 
Enjoy the rest of your evening and a deep quiet that is unusual in the heart of the city.   Oh yes – there is also A Morning Tea with muffins or steel cut oats with fruit !