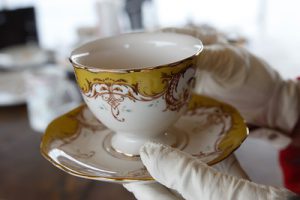 Delightful & Delicious!
 Second Sunday Each Month   
 Seatings at Noon and 2 pm
 Reservations Required & Hats Encouraged!
 425. 243. 9641  or  info@MVLOTUS.org
Enjoy a quick pick-me-up, or a gentle unwinding on the historic M/V LOTUS with a dockside view of ALL of Lake Union and beyond. Gather family & friends. Take a break. Relax, revitalize, and celebrate each other!
This is a public event by reservation.  Second Sunday most seasons.
If you would like a Private Tea Party – click here to read about  event option #1 – Celebrations!
Spring  & Summer Teas  begin in May with Mothers' Day and continue  every Second Sunday through August.
Autumn Teas  are held on the Second Sunday in September,. Also during the Lake Union Wooden Boat Festival on the Last weekend of September.
Winter Holiday Teas –  December 8 & 15  –  Noon & 2 pm seating
More About Sunday Tea Any Time of Year  We serve  tea upstairs on the covered Boat Deck,  or if the weather makes that uncomfortable – in our cozy Pilot House, downstairs in the Saloon, or in the Master Stateroom.
Attire: casual or dressy as you prefer. We suggest that you bring a wrap or sweater. in the spring & summer.  And, a warm coat or outdoor  layers  in the fall & winter.  And a Hat!   We love hats! Utilitarian or Fancy, Fun, or Frivolous, Modern or Historic – Hats are encouraged!
Enjoy your tea table for 90 minutes. It will feel like you have lingered the afternoon away!

Suggested Menu & Donations: 
Savory & Sweets : $37.00 per person; includes a bottomless pot of tea. Or A small pot of coffee at $4 additional.  We serve  delicious savory small plates in addition to scones or crumpets or tiny tea sandwiches. Followed by a variety of sweets, such as tea breads, small cakes and cookies, chocolates,  fruits & nuts.
Sweets & Tea: $27.00 per person; includes a bottomless pot of tea. A small pot of coffee at $7 additional.  We serve a variety of sweets such as tea breads, scones or crumpets, small cakes, a slice of pie or two,  cookies, chocolates, and seasonal fruits & nuts.
Wee Tea: $15.00 per child under 7 years.
Some gluten-free, dairy-free, or vegan items may be available upon request.
Please ask the steward when you make your reservation.
We cannot, however, guarantee against food allergens.
Add a refreshing glass of a cold beverage for $7.00:
Bubbly: pink or white
Pear cider non alcholol
Seasonal juices
Second  small pot of hot coffee
The pleasure of your company at your first Sunday Tea entitles you to a 3 month membership in the Friends of Lotus.
  Second Sunday Tea  resumes January 2020


Simple Tea:  $10. per person includes a "picnic cup" of hot tea and a sampler of tea biscuits.  Served during regular at-the-dock tours… though not during Sunday Tea.
Reservations for "Spending the night Aboard in 1909" or planning your perfect Celebration Aboard…
go back to top – click RESERVATIONS.  
Or contact Head Steward Dan –
425.243.9641    info@mvlotus.org
Updated: September 8, 2019