M/V LOTUS  – Seattle 1909 –
Edwardian Cruising Houseboat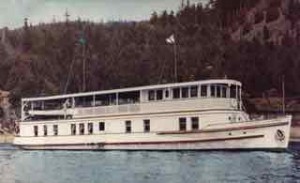 •

FREE  Dockside Tours    Saturday & Sunday
• Spend A Night in 1909 !  Historic Lodge

•

Events • Weddings



•

Reserve your Historic Seattle Experience.
•

Historic Ships Wharf Lake Union, Seattle, Washington
Pay Pal – for Your Donation to The MV Lotus –

Thank You!

   Historic Lodge • Events • Weddings •   
    RESERVATIONS : 425.243.9641    info@mvlotus.org
The M/V Lotus Foundation is a 501(c)3 non-profit organization.
Our mission is to restore and preserve the 1909 Motor Vessel Lotus and to provide a gathering place where Pacific Northwest maritime history comes alive, our adventures are celebrated and the tradition of traveling, living and playing on the water is experienced and passed along to future generations.
Pay Pal Portal for Your Donation to The MV Lotus.

Thank You!