Step aboard Lotus - Experience the Life of The One Percent at the turn of the last century.
So very Downton Abbey!  
Lotus was launched during the Alaska Yukon Pacific Exposition of 1909.
She has been a familiar sight on the Lakes of Seattle, Puget Sound and North to Glacier Bay in Southeast Alaska for more than 100 years.
She was the largest power yacht on the West Coast at the time of her launch.
Today, she retains the charm and original furnishings of that lovely, adventurous era.
COME LIVE IT !
*NEXT VOLUNTEER ORIENTATION
2 August, 2014 
  10 to 11 am 
Come be a part of preservation!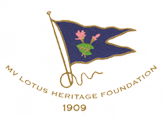 MV Lotus Foundation
The Second Hundred Years...
The M/V Lotus Foundation is a 501(c)3 non-profit organization.

We are dedicated to the Support, Restoration, Maintenance, & Preservation of the 1909 Motor Yacht Lotus and Educating the Public of her place in the history of The Pacific Northwest.