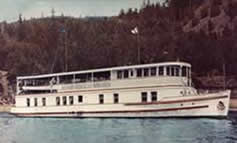 Step back in time
LOTUS
Vintage 1909
Cruising Houseboat
THEN
Launched during the Alaska Yukon Pacific Exposition.
The largest power yacht on the West Coast.
Certainly the most comfortable.
Designed along the lines of a craftsman house with:
● five staterooms
● two full baths
● open tiled fireplace
● bronze lotus flower lighting sconces
● curved staircase
● inlaid hardwood floors
● 20 double hung windows
● a clearstory atrium in the saloon.
TODAY
An Arts and Crafts Treasure
A Pacific Northwest Maritime Experience
● Dockside Tours - Walk Through History
● Spend a night aboard in 1909
● Weddings
● History
● Events
Lotus spends most of the year in active display at her home port of Seattle.
She is in service as a living-history maritime experience.
Dockside Charter
Tours & Floating Lodge
Lotus has been a familiar sight on the Lakes of Seattle, Puget Sound and North to Glacier Bay in Southeast Alaska for more than 100 years. She can be seen cruising throughout the Salish Sea to Wooden Boat Festivals and special invitations. And, YOU can be a part of it!
Today, she retains the charm and original furnishings of that lovely, adventurous era. Come share in the adventure. Come live the adventure!!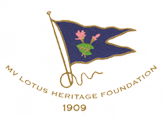 MV Lotus Foundation
The Second Hundred Years...
The M/V Lotus Foundation is a 501(c)3 non-profit organization.
Our mission is to restore and preserve the 1909 Motor Vessel LOTUS. And in the doing, to provide a gathering place where maritime history, local legends and the tradition of traveling, living and playing on the water are experienced, enjoyed, and passed along to future generations.